Back to 2014_12_19_CIE_ARQ_edificios_sangre_fria
Constructing "cold-blooded" buildings
Experts from the University of Navarra are studying a more efficient construction model based on the ability of cold-blooded animals to adapt to different temperatures.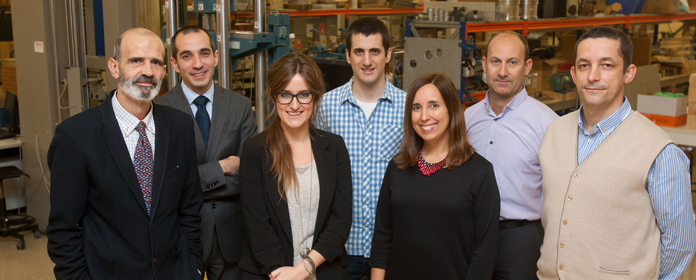 From left to right: José Antonio Sacristán, César Martín Gómez, Amaia Zuazua, Javier Bermejo, Marina Vidaurre, Enrique Baquero and Rafael Miranda.

PHOTO: Manuel Castells
"Redesign of energy integration in buildings from animal metabolisms" is the degree scroll of the project carried out by several experts from the School of Sciences and the School of Architecture of the University of Navarra. Its goal is to discover whether it would be possible to design the energetic behavior of buildings as "cold-blooded animals", that is, as organisms incapable of regulating their internal temperature, adapting to different thermal situations. 
As César Martín Gómez, professor at department of Construction, Installations and Structures of School of Architecture explains, "in general, buildings tend to maintain a constant temperature based on internal energy consumption, just like human beings and what we call warm-blooded animals. However, we want to find out what would happen if the energetic behavior of a building were like that of cold-blooded animals and thus adapt to and make the most of the environmental conditions, conserving or efficiently eliminating heat depending on the outside climate".
Highly efficient buildings
Thanks to the answers to these questions, strategies could be found to address the design of complex buildings such as industrial buildings, hospitals, multipurpose buildings and buildings over 200 meters high, etc. in a way that would make use of the tool of design that would allow the execution of highly efficient buildings. "As models closer to the energy optimization offered by nature," he added.
Other professors from School of Architecture also participate in the work : José Antonio Sacristán, Marina Vidaurre, Cristina Sanz and Mariano González Presencio; as well as Enrique Baquero and Rafael Miranda, from the School of Sciences of the University of Navarra.
The project is funded by the Explora Ciencia call of the Ministry of Economics and Competitiveness under the slogan"Dare to discover. Dare to be wrong", which funds only the exploration phase of the ideas so that groundbreaking results are generated.