Back to 2014_01_20_DER_Nathalia-Lopes
"I chose the Master's Degree in Law from business because of the professors and the contact with the working world."
Nathália Lopes Gomes tells us about her experience at Cuatrecasas São Paulo, where she joined after completing the Master's Degree in Corporate Law. business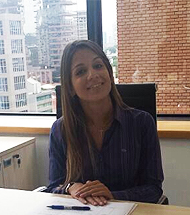 Nathália Lopes Gomes Gutiérrez never had any doubts about her profession, she would be a lawyer. "Since I was a child, I have loved movies and series that deal with the day-to-day life of large law firms and their lawyers. I love law, I am in love with it," she writes from São Paulo, Brazil, where she has joined Cuatrecasas, Gonçalves Pereira.
When he finished his degree program law degree, he joined a Brazilian law firm specializing in commercial law, "but I soon realized that if I wanted to go higher in my degree program I had to get more training". For that reason, he decided to study a Master's Degree outside Brazil. "The choice for the University of Navarra was not difficult because I had in mind that simply studying a Master's Degree outside my country was no guarantee of success. I was only interested in studying the best Master's Degree. Therefore, I started to look for specialized masters in Commercial Law in Spain, and I found out, through rankings, the Master's Degree in Law of business (MUDE) at the University of Navarra," he explains.
Nathália warns prospective students that the choice "requires a very high level of commitment, full time dedication and a lot of willpower," but "it's worth it": "All the effort is very well rewarded. Classes at Master's Degree deal with current issues and are taught by partners from the best law firms in Europe as well as IESE professors, who give sessions on business and management from professional firms. In addition, the University "provides students with the opportunity to meet human resources managers from the best law firms in Spain at contact , through talks, information sessions and fairs at employment, which facilitates their entry into the world of work.
His introduction to contact with signature Cuatrecasas, Gonçalves Pereira was through an informative session of the University at the firm's headquarters in Madrid. A few months later, the partners responsible for area in Latin America, especially those in the São Paulo office, started looking for lawyers in Spain who had interest and experience in transactions between Spain/Portugal and Brazil. "Just at that time I was finishing my internship required by MUDE in Madrid and I was able to participate in the selection process. In September 2013, I joined the corporate area at Cuatrecasas, Gonçalves Pereira."