Back to 2014_02_26_ARQ_Porie-Saikia-Eapen
"Transportation in New York is vital, our goal was to rebuild it as soon as possible."
Porie Saikia-Eapen, chief architect in the reconstruction of the transportation system at 'Ground Zero', has visited the School of Architecture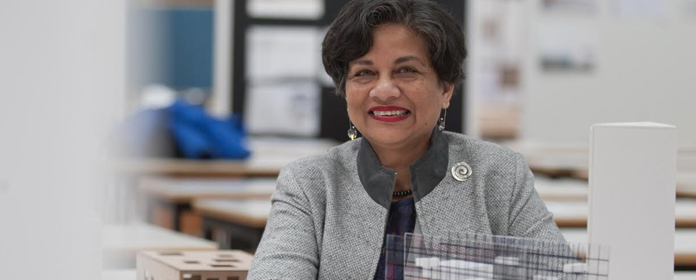 Porie Saikia-Eapen, chief architect on the reconstruction of New York's 'Ground Zero' transportation system from 2003 to 2006, has given an international seminar room , as part of the School's new specialization program Construction Project Management.
"Only through competent project management can we meet a demand that increasingly demands excellence in the submission, the convenience of project and its efficiency," he said.
Asked about the role of women in a sector in which the role of men is so marked, the architect affirms that it is an issue that must be taken care of and strengthened. "Women make up half of the world's population. An industry in which they are not present is a weak industry. We are building more and more and our work strength can only grow thanks to the inclusion of women in the sector."
Likewise, in his professional career one of the most important projects and with more work has been the reconstruction of the transportation system of New York's 'Ground Zero' after the 9/11 attacks. "Our main goal was to get the connectivity of the new subway as soon as possible. In New York City the subway system is its lifeblood and once this system is affected, the city is diminished. Our approach, through design and rebuilding, was to get a system manager, efficient and reliable as quickly as possible."
On the need to take sustainability as a reference point for projects when building, the architect states that "it is not only important, but an imperative in all project". 
"So much damage has been done to our environment that our very existence in the future is threatened. Therefore, it is not just a matter of saving the environment, it is a matter of saving ourselves. Since our industry is manager of the built part of our society, it is our responsibility to design with sustainable materials and methods and use renewable resources," he said.