More than 400 students at #fcomconecta, a workshop of Communication and Technology.
The workshop was aimed at promoting the employment university in this sector.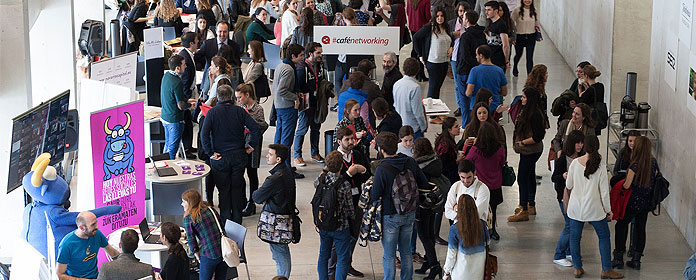 The University of Navarra hosted the fifth Sector Focused Career Fair 2015 in which around 400 students participated and which was attended by professionals from 21 companies in the Communication and Technology sector.
The workshop, aimed at promoting the employment university, has had nine workshops given by companies such as: Happenninn, Kendu, Kreab, Atresmedia, Fundación Telefónica, Unicef, Interbrand and RMG Connect.
In addition, Jorge Cachinero, Director Corporate of Llorente & Cuenca, has given a discussion paper on "How to network" in which he explained to the students that "in the current labor market, the skill when making quality professional contacts" will determine the success of their professional degree program , and encouraged them to "start building your brand staff from now", and "not to miss any opportunity to meet other professionals".
Participants also took advantage of the networking space, where they were able to interact with companies such as Atrevia, El Español, Kukuxumuxu, Villa McLuhan and Cadena SER.
In the afternoon, eleven alumni of the School of Communication have explained to the university students how they have come to work in companies such as Marca, Kreab, The flimarket Hub, Fundación Telefónica, El goal, Brand Union, Disney, Birra Series and Sra Rushmore.
The workshop, has ended with a Pitch Fest, in which students of the School Communication students presented twelve projects, including ideas such as television series, feature films, events and associations, among others. The participants presented their proposals to a panel formed by professionals from the participating companies and the best project was awarded with a weekend of training in ideation and entrepreneurship by Fundación Telefónica.