Fcomtour, more alive than ever
4th year Journalism students spend three days in Madrid getting to know the big media from the inside.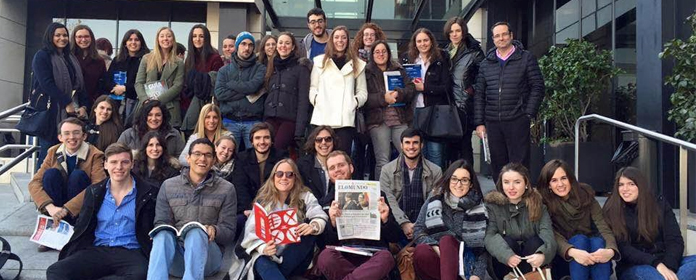 Students and teachers, in front of Unidad Editoria's headquarters.
PHOTO: Courtesy
On Wednesday, January 13, the fourth year students of Journalism at the University of Navarra headed to Madrid to take part in a new edition of the successful and traditional Fcomtour. Together with professors Alfonso Vara, Beatriz Gómez, Javier Marrodán and Miguel Ángel Jimeno, the students enjoyed three frenetic conference in which they were able to visit the most important companies and institutions related to communication in Spain.
Observing 'in situ' the production of successful television and radio programs such as 'Al Rojo Vivo' and 'Más de Uno', from the programs of study of Atresmedia; chatting with one of the great national figures of journalism as Pedro J. Ramírez from the essay of El Español, his new newspaper, or being received in one of the most important communication consultancies in the country as Llorente y Cuenca, were just some of the experiences that the soon to be graduated journalists were able to live.
Miguel García Barea, one of the students who participated, acknowledges that the trip has opened his mind. "Until now, I knew the main media by their content and line publishing house. Now I know, among other things, how they work inside or what their business model is. All of this has helped me to clarify certain doubts about what I would like to do tomorrow". Similar views are expressed by the delegate of class, Alicia Arza, who was also the organizer and, therefore, the main manager to make the trip possible. "I think it has been a very good experience, which allows you to learn more about the reality of the working world that we will be joining in a few months. It is tiring, there was little sleep and a lot was done, but I would repeat without hesitation."
Getting to know the ins and outs of the big media companies was the highlight of a tour that included other obligatory stops, such as the three big Spanish newspaper groups, Prisa, Unidad publishing house and Vocento; the digital newspapers eldiario.es and El Confidencial; the production company 93 metros; and the set of El Hormiguero ( some lucky ones even attended the program live). In addition, there were visits to Google Spain, the U.S. Embassy, the consulting firm Deloitte and BBVA. There was also time to sit down and talk with former students of the University, now professionals in the communications field. The ISEM Fashion Business School was the place chosen to enjoy a pleasant chat with Fernando Lázaro (El Mundo), Chapu Apaolaza (suplemento V), Paula Parcha (Cuarenta Principales) and Estela Santos (Expansión).
After three intense days in the capital, which felt like many more, we returned to Pamplona. Rarely will those who were there do so many things in such a short period of time. Back to Navarra, the students brought with them a good dose of accumulated fatigue but, above all, new knowledge and an impulse to, as student Nerea San Esteban says, "continue working for what we dream of and to believe that journalism is more alive than ever".