Back to 2014_03_02_fcom_liberacionmarc
Marc Marginedas, released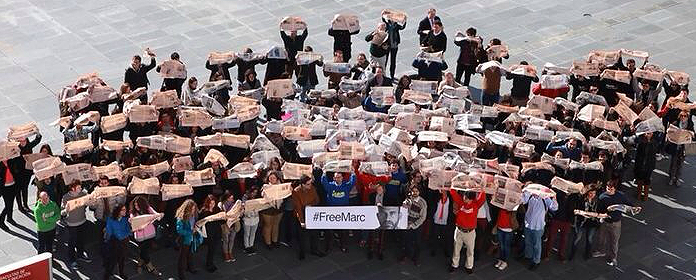 Every Wednesday, students and professionals from the University have gathered to call for the release of Marc Marginedas.
PHOTO: Josu de Pablo
The former student Marc Marginedas (COM' 90) has been released early this morning and is currently in Turkey, according to El Periódico de Catalunya, the media for which he works. Marc was kidnapped last September 4, six months ago, in Syria, where he was covering the conflict for the newspaper.
During the six months that Marc's kidnapping has lasted, students and professors of School of Communication, and colleagues from other centers and services of the University of Navarra, have met every Wednesday afternoon to ask for his freedom and that of the other kidnapped journalists, especially for the Spanish colleagues Javier Espinosa and Ricardo García Vilanova, journalist of El Mundo and renowned freelance photographer, respectively.
The dean of School of Communication, Monica Herrero, explained that "today is a day of great joy for the release of Marc, not only for all his colleagues at El Periódico and the University, but for Journalism with a capital letter, because without freedom there is no journalism, and without journalism a society cannot develop in peace. That is why we continue to call for the freedom of Ricardo, Javier and all the journalists kidnapped in Syria and elsewhere," he concluded.