25 journalists analyze the profession: payment on the Internet will become mandatory
David Levy, from the Reuters Institute at Oxford University, will present the Digital News Report 2013.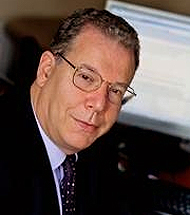 David Levy.
PHOTO: Courtesy
David Levy, director of the Reuters Institute for the Study of Journalism at Oxford University, will present the Digital News Report 2013 in Madrid on Friday, January 24, as part of the Conversations with initiative, in which 25 journalists give their views on the present and future of the profession.
Levy will be introduced by Mónica Herrero, dean of School of Communication of the University of Navarra, organizer of the event, in which Levy will present the challenges and opportunities of journalism in the face of new products and audiences.
Digital News Report is a research from the Reuters Institute for the Study of Journalism based on more than 11,000 online interviews conducted in nine countries (Brazil, Denmark, France, Germany, Italy, Japan, Spain, United Kingdom, United States and United States).
According to a preview of the study to be presented at the International Press Center, " free bias formats are a hope for the future of newspaper companies, although for now the monetization and revenue of the digital editions of these companies is small". In addition, the report highlights an increase in the willingness to pay for content from added value.
The journalists participating in this edition of Conversations with about the profession are Manuel Erice, Juan Carlos Laviana, Rosalía Lloret, José Manuel González Huesa, Fiona Ortíz, Carlos Gosch, Javier García Vila, Rafa Sahuquillo, Javi Nieves, Olga Pereda, Mario Tascón, Carmen del Riego, Ricardo Villa, Nacho Labarga, Ana Bueno, Oskar Belategui, Dani Toledo, Carmen Enríquez, Ramón Salaverría, Fátima Iglesias, Javier Errea, Ana Ormaechea, Carmen Pérez de Armiñán and Javier García de la Vega.
Among the issues discussed by these professionals are the financing of new models, audience measurement, multiscreens, new players in content distribution, integration of newsrooms, the need for heavy investment in technology, and the verification of data. The importance of quality, independence, veracity and credibility is also highlighted. 
Other contents of the news