#fcomtour: "In this profession we don't know what will happen tomorrow".
A student of exchange of 4th year of Journalism tells the chronicle of the #fcomtour, a trip made with his classmates to Madrid to visit media, companies and alumni to look into the professional future.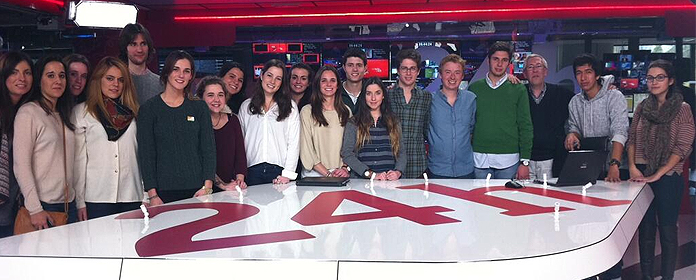 Traveling to Madrid to get a close look at work of some of Spain's major media outlets was exhilarating. Even more important because you accompany a class of journalism students a few months away from graduating and facing the real world . We are all full of uncertainty and pessimism about the job market: the economic crisis, the profession, I don't know what to do yet , in short, a series of reasons that as students can limit us and even lead to confusion.
However, this trip has helped us to better understand what it means to be a journalist and communicator. First, because this adventure has inspired the unity and companionship of group. As student of exchange, I observe these impressions: it is extraordinary to know that the reflections about degree program are made together, laughing, analyzing the market, the salary, the internships, the projects, the possibility of Latin America, the United States or Africa. And that is why it was necessary to be there where the information is worked with; and to understand that the tangled world of communication is not only about having a good essay, but also about commitment and self-confidence. "What have we learned from the journey? Not to be afraid of failure," Paula Parcha tells me.
On the other hand, listening to the varied opinions of the different managers of these media has been fundamental. Julio Samoano, Director of TVE's news services at Radio Televisión Española (RTVE), explained:"The effort for an integrated essay is the most important. And coordination is needed in order not to make mistakes; we should not be obsessed with being the first". He also indicated that the news cycle has changed, it is bifurcated in the different formats. "You must know how to tell stories, have a good background, criteria and take advantage of new technologies," he recommended to everyone.
Gradually, the walk through the facilities of Unión publishing house became interesting, after the welcome and encouragement of Pedro J. Ramírez, director of El Mundo. Many were excited by the rooms of essay of Marca, the magazine El Cultural, Expansión: "I would never dedicate myself to Economics", agreed some; many remembered their summer internships as interns of some media, and others did not stop asking questions and taking pictures, as if it was the first time they stepped on a newspaper. We also visited Microsoft, Telefónica, Estudio de Comunicación and the Partido Popular (PP).
An important moment of the tour was the visit to the digital newspaper El Confidencial, the fourth most read in Spain. We were welcomed by Pedro Calvo, head of Economics and market, who is also a former student of the Fcom-Unav. We received a talk from José Antonio Sánchez and Nacho Cardero, publisher and director, respectively; both harmonized a formula that, I am sure, seduced everyone:"Create and live journalism. Combine talent with stories of interest. Work as a team. Unlike the other newsrooms visited, the one at El Confidencial is small, circular, with cafeteria in the center, and there is "a family atmosphere, where we mix the experience and youth of our editors," explained Pedro Calvo, while he showed the sections of the newspaper.
At the end of the whole workshop, we received at high school Retamar a talk at position from several alumni of the School: Pablo García Cuervo, sports journalist; Calixto Rivero and Yago Gonzalez, editors of Expansión; José Luis Diez, from GQ magazine, and Beatriz Jerónimo, from Boomerang TV. All of them, by way of reflection, urged us not to fall into pessimism, that status is not as bad as we think. " They should trust in their talent, be optimistic and not be afraid of challenges", demanded Pablo, after telling us about his correspondent's work in the 2010 World Cup in South Africa. We all watched them attentively, reflectively, imagining every moment of their work. Would we go through the same thing? Would it be difficult?
Days later, Andrés Juárez told me: "This trip gave me back my journalistic faith". And that is how each one of us feels, trying to do our best to face a harsh reality. "I was looking for valuable, interesting encounters that would help me learn something new," says Julio Wais, student representative and manager of this adventure. There are only a few months left to leave the university: perhaps they will no longer get together to smoke a cigarette outside the School, or have a coffee, while chatting and planning the night or the weekend. Now everyone will choose their own path: you will be in a essay, on a television set, in a public relations office , in a radio booth or as a correspondent in a distant country. As Julio Samoano used to say: "In this profession, we don't know what will happen tomorrow".