"Knowing the business in depth, the basis of a good entrepreneur".
colloquium with Antonio Esteban, president-founder of Soria Natural at the University of Navarra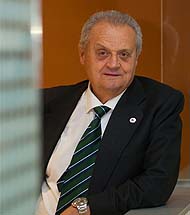 Antonio Esteban at the Amigos Building
PHOTO: Manuel Castells
"To start something, you have to know well the instructions of what you want to create. Don't get into a business that you don't master". Antonio Esteban, president-founder of Soria Natural, participated in a colloquium with the students of the Master's Degree in Government and Culture of Organizations of the high school of business and Humanism of the University of Navarra.
Soria Natural is the business leader in the Phytotherapy sector in Spain, created in 1982. Its founder explained in the colloquium that the beginnings of the business were complicated, but to get ahead it was based on "three pillars: work, work and work". "Nobody knows how to do anything the first time. Life is a constant university, you learn something every day," said Antonio Esteban.
"The advantage of setting up your own business is that you can work on what you love. Plants were my hobby and I turned it into my work, you own to do and undo." The founder of Soria Natural indicated to the attendees that being an entrepreneur is positive for the person, it makes you create an internal and own discipline , which you do not develop if you are not an entrepreneur.
On the other hand, he stressed that his business is based on sincerity and clarity, "employees have to work with the same goal as ours, putting each person in the most suitable work space according to their qualifications".
Three decades in the service of Natural Medicine
Soria Natural was created in 1982 with eight employees and now has a staff of more than 500 people and more than 700 products on the market. It has four subsidiaries -Mexico, United States, Germany and Portugal- and more than 24 distributors worldwide.
It currently has three divisions: Soria Natural, as a brand for the herbalist sector; Alimentación ecológica de Soria, dedicated to the cultivation, processing and marketing of organic food, and Homeosor, which distributes its catalog in pharmacies.