Back to 2014_01_20_semifinal_cantautores
Music to start the year off right
The semifinals of the Pop-Rock Contest, Singer-Songwriters and Singer-Songwriters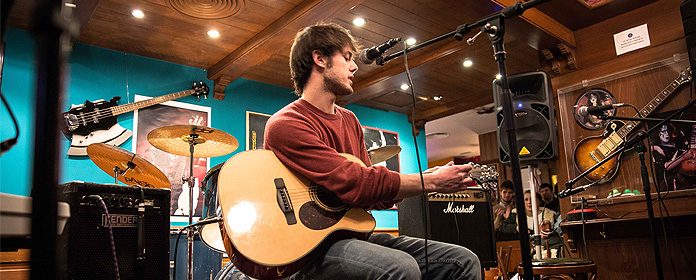 Zuma during his performance.
PHOTO: Santiago González Barros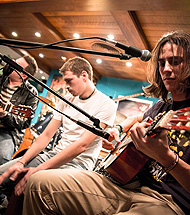 Humberto and Ángel.
PHOTO: Santiago González Barros
To the rhythm of drums and guitar, the third week of January was a resounding one. On the 15th and 16th, the University's most musically gifted students fine-tuned their voices and instruments for the semifinals of the Pop-Rock Contest, Cantautores. "During the past semester we have played in bars, but Cantautores is an opportunity to make ourselves known," says Alex Forcada who, together with David Otero and Favila González, is one of the members of group The Roots Trio.
And this is the fifteenth edition. During all these years, "Cantautores" has served to unite many students whose vocation is music. "We were close friends and shared the same musical tastes. When we found out about the Cantautores contest a year ago, we decided to apply," explains Lucas Vilela, a member of group Garrastazu.
"We had known each other for a long time and we felt like playing together. Cantautores has been the opportunity".
The quotation at the Rockefor cafeteria was attended by many students, classmates, friends or anonymous of the groups and soloists ready to play their two best songs. Lots of stories, good rhythm and, as expected, great songs that we will surely continue to listen to. But in addition to giving the grade, some of the participants were dedicated to make report.
"I started writing rap songs when I was 14 or 15 years old and I realized that I really liked it. I decided to apply to Cantautores and, although I love music, I have dedicated a lot of time to compose these two songs," said Zuma, another of the participants.
Humberto Vallejo has been writing for a long time but, for him, the language of music is very different from that of literature. He thinks that inspiration has to do with each person's experience. "We had known each other for a long time and we wanted to play together. Cantautores has been the opportunity," he says, referring to his partner Ángel.
Stories aside, and as Freddie Mercury used to say, the show must go on. That is why Garrastazu, Roots Trio, Nacho Sansón, Zuma, Black & White and White Elephant have been chosen and will move on to the final phase of the XV Pop-Rock Songwriters Contest. It will be on Thursday, January 30 at 7 p.m. at the auditorium of the Science Library. Until then, the rhythm will not stop. But as Garrastazu says, the greatest award is the realization staff and make people a little happier to the sound of music.