ISEM students visit Tempe, Inditex's footwear and complements division.
The trip included visits to the factories and several sessions on the operation of business and its strategy.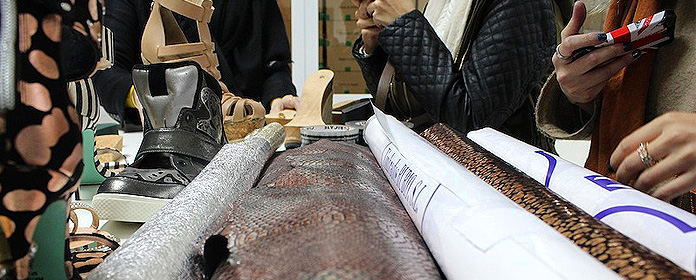 The students were able to see and touch the entire production process in the factory itself.
PHOTO: ISEM Fashion Business School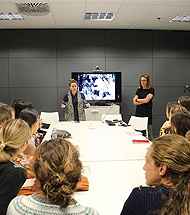 One of the conferences that took place along the workshop.
PHOTO: ISEM Fashion Business School
The students of Master's Degree Executive in Fashion Business Management of ISEM Fashion Business School traveled to Alicante to learn firsthand how Inditex' s (Tempe) footwear and accessories headquarters works.
Constantino Jabonero, director of the footwear division of the Lefties brand , was the one who received the group to explain the operation of the business and its strategy. During the talk, he stated that "Inditex is committed to a sustainable company model , where CSR is of crucial importance and customer service is the core topic". 
The executive also told the students that the three priorities of group are "the product, flexibility and results". In this sense, he made reference letter to the importance of the jointwork with suppliers to achieve the expected results: "In this market it is not the biggest that wins, but the fastest; we are not conformists, we have to be continuously improving".
In the second session, May Alberola, manager of the footwear and accessories division of zara.com, explained how the company's e-commerce works. She also made reference letter to the apps of the business and stopped at its commercial application.
The students of the XI promotion were also able to meet some of ISEM's alumni students who are currently working there.
Afterwards, Daniel Gracia and Adriana Méndez, director Zara-Tempe commercial and international coordinator for Zara-Tempe in the Arab countries respectively, gave a session on development collections. Daniel Gracia spoke about the planning process of a campaign from the beginning until the product reaches the store. On the other hand, Adriana Méndez explained the particularities that must be taken into account when selling in Arab countries, where fashion consumption is somewhat different.
Later, the group visited Calzados Manolito's, one of the factories located in Elche that produces for the company.
Finally, Neus Deltell, Human Resources and Recruitment technician at Tempe, explained the different professional profiles of business: design manufacturing, purchasing and product.
In addition, during the workshop the students of the XI promotion could meet some of the ISEM alumni currently working there as Cristina Guerrero (ISEM '13), Product Manager .COM Zara Kids; Adriana Mendez (ISEM '09), international coordinator of Zara-Tempe; or Natalia Prieto Velasco (ISEM '09), Product Manager at Tempe.