The deadline for the Debate Contest of the congress Forun 2014 ends.
November 30 is the last day to register for the Debate Competition, the final of which will be held on March 22.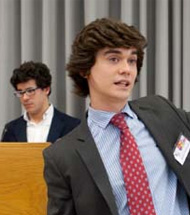 Intervention of a student in the 2013 edition.
PHOTO: Manuel Castells
The Debate Competition of the congress Forun 2014 will keep open the deadline of registration until next Saturday, November 30. Those students of the academic center who are interested can participate, regardless of whether they present communication in the congress. Teams must be composed of two or three people.
The final of the contest will be held on March 22, the date chosen for the celebration of congress Forun 2014. The issue of previous phases of the contest will depend on the issue of teams that present themselves. Once the final is held, a award of 450 euros will be awarded to the best team. In addition, the following runners-up prizes may be awarded "for the quality of the arguments presented", "for rhetorical quality" and "for the best speaker".
Eight topics on different aspects of Ecology will be the focus of the debates of the 2014 edition:
Urban lifestyle or rural lifestyle

NIMBY: general vs. local interest

Cultural ecology: globalization or biodiversity

Is nuclear energy a truly environmentally friendly alternative?

Transgenic foods, yes or no?

Perfection vs. imperfection, should we improve the human being?

Patent liberalization in the pharmaceutical industry, yes or no?

Technology in the 21st century: does it liberate or enslave us?
Those interested in participating may do so by filling out the following form form de registration
All the information of the discussion Contest of the congress Forun 2014 is collected on the web.