Back to 2014_01_27_tallermaquillaje
Shade here, shade there, make up
Cultural Activities Office organizes a theatrical makeup workshop for the students of the different theater groups of the University.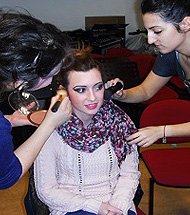 Students during the workshop.
PHOTO: María Luisa Guerrero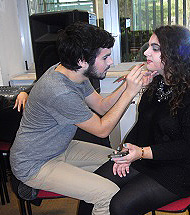 The attendees were able to put on internship the tips they had learned.
PHOTO: María Luisa Guerrero
Is everything ready? Yes! Lights, camera and action! Ah no! Makeup is missing. This status is what the kids from the theater groups wanted to avoid by attending a full-day course in basic theatrical makeup. The teacher, Anna Dulska, says that basic resources such as time and money are often lacking, but the young people's desire to learn is always at the forefront.
"The theater groups do very diverse performances, and this course is designed to make them self-sufficient with makeup. A lot of attention is paid to the sets and costumes, but makeup often takes a back seat," explains Anna.
Between phrases like "what a great lipstick you have painted on me " and "do you want me to do your eye line", these young artists learn the basic techniques to achieve a totally natural make-up. Of course, the girls, who are much more involved in this world, want to learn new things. "Some of them want to create a 1920s character, subject femme fatale, and here we give them tips to achieve a credible and professional makeup," says the teacher.
"A lot of attention is paid to sets and dresses but makeup often takes a back seat."
The guys from Atrezzo, Karrakela and Mutis por el Foro have dedicated their whole day to learn the basics of makeup: the base and the line of the eye. A great challenge for the kids. Eduardo Bodegas, student 3rd year of Audiovisual Communication, talks about the importance of all team members knowing how to do different things, so that it's not always the same people who do the work. Although he himself admits that he usually only paints the eye line and this is the first time that a teammate does the whole face.
"I find this workshop very interesting because we need to learn different techniques about makeup. The good thing is that we can ask about what we are most interested in, the small details. But I would also love to know different types of hairstyles," explains Inmaculada Chávez, a 4th year Architecture student. They have also learned about aging techniques and, in the future, maybe historical makeup and special effects makeup. The result The end? We will be able to see it on stage in the coming months.