Back to 2013_11_28_COM_Pablo-cabrera
Pablo Cabrera: "We must expand our capacity for analysis in order to innovate".
meeting of director of the Diplomatic Academy Andrés Bello with the students of the MCPC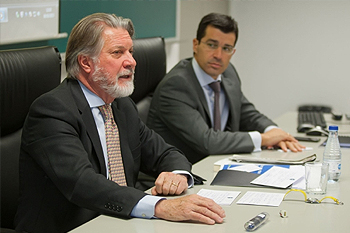 Chilean diplomat Pablo Cabrera and Jordi Rodríguez Virgili, director of the MCPC.
PHOTO: Manuel Castells
Chilean diplomat Pablo Cabrera, currently director of the Andrés Bello Diplomatic Academy, spoke with MCPC students about the challenges of communication and diplomacy in the face of the changes facing today's society: "today's institutions go after people, they need to know their public," he said. For Cabrera, the communication of public organizations must take into account two fundamental concepts: transparency and the capacity for verification provided by today's media. This can be seen in social movements such as that of the indignados, who "demand more information from the State".
Another aspect core topic of Public Communication lies in being coherent with one's own identity, since, as Cabrera explains, "when one assumes one's identity, one can build images related to oneself". To do otherwise, in the opinion of the Chilean diplomat, is propaganda. Pablo Cabrera recommended three keys to effective communication: analyze the context, be consistent in your messages and generate conversation.
On the other hand, Pablo Cabrera explained that the current generation is "the generation of change", since it has gone "from a world of certainties to another full of uncertainties". In his opinion, communicators "have a great task here", since "they must be capable of discovering the tradition hidden behind the dynamism of change, discerning between the changing and the permanent". At final, "we must broaden our capacity for analysis in order to be able to innovate", he said.
Diplomacy today moves in a world of abundance of information, of inflation of data available, which generates a lot of "noise". Therefore, for the former Chilean ambassador to countries such as Russia, China, the United Kingdom or the Holy See, "the global challenge for the diplomat is to become a reliable articulator of this information". According to Cabrera, "the diary has expanded. Now we are not only talking about peace and security related to States, but also about people's rights". Therefore, it can be said that "intergovernmental relations have given way to interpersonal relations", the diplomat reasoned.
Finally, Pablo Cabrera urged to assume the DNA of the innovative diplomat, which implies, in his words:"knowing your product (your country), persevering in transmitting that product (consistency), putting your experience at its service, having a good network of contacts and being convinced of the goal you are pursuing".