Back to 2013_11_27_COM_Entrevista-eduardo-ladron-de-guevara
"There may be an innate predisposition, but you learn to be a screenwriter."
Eduardo Ladrón de Guevara, scriptwriter of Cuéntame or Farmacia de Guardia, gave a session to the students of Master's Degree in Audiovisual Script in which he revealed the keys to stand out in the audiovisual world.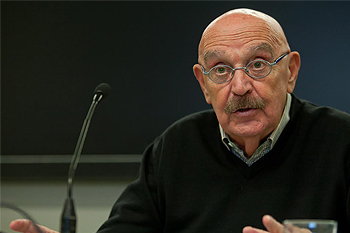 Eduardo Ladrón de Guevara, in his colloquium with the students.
PHOTO: Manuel Castells
He walks at a leisurely pace, as if inviting anyone he comes across to chat. Without haggling for time, even if those around him are hung up on the clock. He is in no hurry. Who knows if from the conversation with one or the other he will draw inspiration for some of his characters. Eduardo Ladrón de Guevara, born in Madrid 70 years ago, has dedicated his life entirely to the world of screenwriting. He has written the dialogues for legendary series such as Farmacia de Guardia y Cuéntame Cómo Pasó. To succeed he has had to work hard, walking the corridors in his beginnings ("back then there were only those of Televisión Española", he recalls) and knocking on the doors of the offices with a script under his arm; or collaborating in projects that he himself describes as "real garbage", but which have laid the groundwork for later successes instructions .
Ladrón de Guevara, backed by his long career, shared his experiences with the students of Master's Degree in Audiovisual Screenwriting (MGA) and a group of students of Degree of Audiovisual Communication, with whom he tried to contribute, with humor and without concealment, his vision of the world of the screenwriter.
What place do you give to the script in a series or a film?
It is the first step, but nothing more. It's like trying to solve the question of the chicken and the egg, the egg is the script, of course, but I think that cinema and theater are really made by the actors. With a good text and good performers a good series comes out, but a good text with bad actors or actresses goes nowhere. The script is the basis of everything, but it definitely depends on the actors.
What is clear is that a good script is essential, what does a good text need?
The essential thing is that the characters are not puppets, that they are human beings with recognizable dialogues, and that things happen to them that happen in real life with which the audience can identify. That's why most novelists can't do theater, because they don't know how to dialogue well, they use other mechanics and dialogues in audiovisual productions are very important, they give life to the characters. When what they say is not credible, the character falls.
What do you consider to be the keys to the success of your great works such as Cuéntame or Farmacia de Guardia?
Mainly the actors, although I don't want to say that the texts have nothing to do with it. Of course, the failures I have had have been because they were poorly written and also because they were poorly interpreted.
Is a screenwriter born or made?
I think you are born with blue or big eyes. There may be a predisposition, but I have the impression that being a scriptwriter is something you learn. You have to put in the hours, you have to work hard, like everything else. The training is the sine qua non requirement.
What advice would you give to students who are preparing to go into this field?
They have to cultivate themselves. They have to live; read a lot, travel, fall in love? I would even encourage them to study drama to be able to put themselves in the interpreters' shoes.
Why did you decide to dedicate yourself to the world of communication?
Because it was what I liked the most, it filled me with emotion. When I stepped on a stage or a set, it was clear to me that I wanted to belong to that. I had no idea how to get it, but with a lot of work and insistence I have come to be able to live from this, which is a lot.