Back to 2014_02_28_COM_Gutierrez-Rubi
Antoni Gutiérrez-Rubí: "No one will be able to govern without shared opinion".
The consultant politician offered a session at the Master's Degree in Political and Corporate Communication.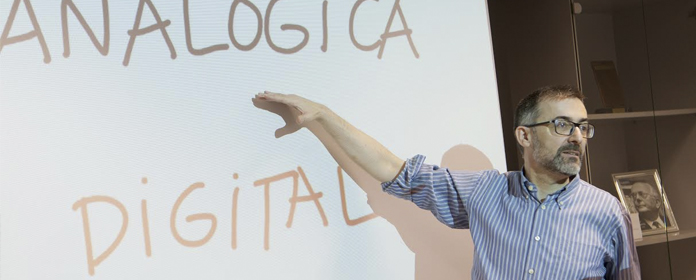 The political consultant Antoni Gutiérrez-Rubí explained in a session to the students of Master's Degree in Political and Corporate Communication that nowadays it is impossible to govern without taking into account the shared opinion: "Political power is not enough and cannot be isolated from the context we are living in", he declared. In this sense, he stated that it is now unfeasible to ignore the public diary . "What is shared by citizens is not the same as the published diary and today citizens have more means to make themselves heard and participate".
Gutiérrez-Rubí pointed out that politicians have to be aware of the current political disaffection. In this political crisis, citizens think, justly or unjustly, that they are not governed by the best, that politicians do not understand them, that they are ineffective, that they legislate too much, too late and too badly, and that their behavior is unethical. The consultant explained to the students that it is essential that the politicians we have to advise are aware of this context: "Our main work is that they understand what is happening. Only with an accurate diagnosis can you intervene".
On the other hand, Gutiérrez-Rubí related this political crisis with the protests that have been taking place in different parts of the world since 2011. He also highlighted the extraordinary creativity of these protests: "There is a lot of creative talent and we have gone from the concept of activists to artivists".
In addition, Gutiérrez-Rubí explained that the success of a protest can no longer be measured by the issue of people who physically attend the demonstration, but now the political victories that mark the diary are those that obtain a great amplification in the media and social networks due to their creativity. That is to say, the following of a protest is amplified in new ways. As for the common characteristics of these protests, Gutiérrez-Rubí argued that they all take public space - "the street as a theater of operations"-, are led by young people, are diverse and use social networks as a tool for dissemination and participation.
The consultant stated that the protests may not be producing immediate results now, but we are witnessing a collective sowing process: "It is not what you get from today to tomorrow, it is that there is a change of mentality. We have to take the long view. If we put the short ones we only think of the immediate and the ephemeral".
Finally, Gutiérrez-Rubí advised students about their professional profiles on social networks and stressed that the important thing is to be transparent and coherent: "Be and behave on the network as you are and behave outside of it," he concluded.