Back to 2014_01_17_DER_Enrique-Abad
"Cooperation to development is not only about projects in the South; it is also about raising awareness in the North."
Enrique Abad, manager of Intermón Oxfam in Navarra, participates in the I workshop of Human Rights of the University.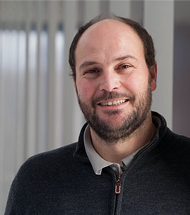 Enrique Abad.
PHOTO: Manuel Castells
The manager of Intermón Oxfam in Navarra and president of the Coordinadora de Organizaciones No Gubernamentales de financial aid al development (ONGD) in Navarra, Enrique Abad, has defended the need for the institutions belonging to the so-called third sector "to work on awareness and social mobilization in developed countries", since "cooperation is not only projects of financial aid". Abad participated in the I workshop of Human Rights, organized by students of the School of Law.
The expert stressed the importance of public pressure in Western countries, as well as the power of citizens as consumers: "The economic crisis has awakened a wave of indignation in society, but we must be able to take the next step and turn that anger into constructive engagement if we want to change things," he explained.
Abad detailed that the budget public in cooperation to development, the financial aid Official to development, has decreased by 80% in Navarra in the last five years and by 75% in Spain as a whole, as well as the support of society to NGOs. In contrast to these reductions, "the increase in inequality stands out, also in developed countries such as ours", he denounced.
However, Abad wanted to stress the importance of not forgetting the need for financial aid to development, because "it is not the same thing to have a hard time in a country like ours, due to unemployment or any other serious circumstance, no doubt, but that is dwarfed by the reality that between 800 and 900 million people go to bed hungry every day, or that a fifth of the world's population lives on less than a dollar a day, or that half of the world's inhabitants spend workshop with less than four dollars".
For this reason, organizations such as Intermon Oxfam work with the double goal to develop cooperation projects with southern countries and "raise awareness and put pressure" on northern countries. The NGDO intends to tackle "the problem of taxation", since: "In Spain, the idea is to get out of the crisis by cutting back only through expense , but we believe that we can avoid so much social unprotection if we increase public income", he remarked.
The I workshop of Human Rights has been organized by students of the School of Law of the University of Navarra, who seek to promote the culture of human rights and cooperation in the university, in line with "the sense of responsibility that every university student should have".