Back to 2014_01_20_FYL_More than 70 researchers from 15 countries
More than 70 researchers from 15 countries at the III congress-Ibero-African Hispanists (Fez), organized by GRISO
Noteworthy is the approach multidisciplinary of the meeting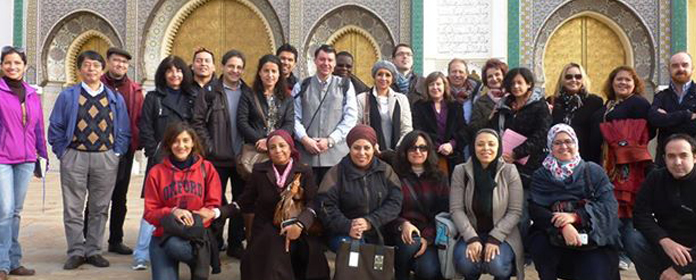 Some of the speakers at congress.
PHOTO: Courtesy
The III Ibero-African congress of Hispanists has been held in Fez (Morocco), co-organized by the Sidi Mohamed Ben Abdellah University of Fez (School de Letras y Ciencias Humanas Dhar el Mehraz, Centro de Investigaciones Ibéricas e Iberoamericanas, department de Hispánicas), the group of research Siglo de Oro (GRISO) of the University of Navarra and the high school of programs of study Auriseculares (IDEA). The co-directors of congress were Noureddine Achiri, professor of department of Hispanic Studies at the Sidi Mohamed Ben Abdellah University of Fez, and Ignacio Arellano, Director of the GRISO. The General administrative office of congress was awarded to Mariela Insúa and Carlos Mata Induráin (GRISO-University of Navarra).
More than 70 Hispanists from 15 countries participated in meeting : Morocco, Spain, Tunisia, Algeria, Egypt, Senegal, Cameroon, Ivory Coast, United Kingdom, Netherlands, Poland, Venezuela, Mexico, United States and Japan. In addition to its marked international character, it is worth mentioning the approach multidisciplinary of meeting, with sessions dedicated to literature, history, linguistics, teaching of Spanish for foreigners, translation, cultural contacts between Europe and Africa, etc.
In this congress, the University of Navarra has been represented by Ignacio Arellano ("Theatrical battles in the Golden Age"), Álvaro Baraibar ("Gonzalo Fernández de Oviedo's views on the Nature of the New World"), Juan Manuel Escudero ("Of bestiaries and autos sacramentales calderonianos: the eagle motif"), Víctor García Ruiz ("A playwright in the network: the case of Víctor Ruiz Iriarte"), Carlos Mata Induráin ("The "Batihoja" collection of the high school de programs of study Auriseculares-IDEA: a new project for Hispanism") and Blanca Oteiza ("The theater party").
Third meeting of Ibero-African Hispanists
At the opening ceremony, in addition to the co-directors of congress, Professors Ignacio Arellano and Noureddine Achiri, Ahmed Benremdane, Director of the department of Hispanic Studies of the Sidi Mohamed Ben Abdellah University of Fez, and Abdelilah Benmlih, Dean of the School of Letters and Human Sciences, intervened. The academic authorities of the University of Fez highlighted the valuable partnership maintained with GRISO-University of Navarra, which has made it possible to organize a meeting that constitutes "a good example of cooperation for cordial dialogue and exchange of experiences and knowledge", which will be "a great boost to the scientific and university research ". The academic sessions were complemented with a visit to the most emblematic places of the city of Fez and a "brotherhood dinner".
It should be noted that this was the third in the series of Ibero-African Congresses of Hispanists convened by the GRISO. The previous ones took place in Dakar (Senegal), in February 2009, co-organized with the Université Cheikh Anta Diop; and in Cairo (Egypt), in November 2012, co-organized with the association of Hispanists of Egypt and the high school of programs of study Auriseculares (IDEA).