Back to A graduate participates in the construction of Spain's first two-story wooden house on an existing roof.
A graduate participates in the construction of Spain's first two-story wooden house on an existing roof.
Vicente Buyo points out that, as it is a lightweight material, it does not damage the structure of the building and that the work is carried out in four months, which reduces costs.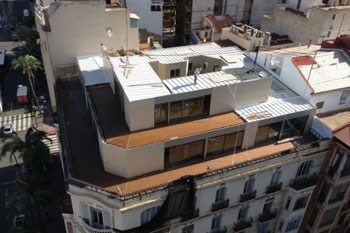 Aerial image of the house in whose construction Vicente Buyo has participated.
PHOTO: Courtesy
Vicente Buyo, graduate of the School of Architecture of the University of Navarra, is General Manager and architect at business Modular Projects, which has carried out a pioneering project in Spain. It is the first house in the country with a two-story wooden structure on an existing roof.
employment "The owners of the building decided to increase its height by using lightweight materials that would not damage its structure," adds Vicente Buyo. Modular Projects explains that, in spite of everything, the construction is solid, adapted to seismic movements and has a fire protection system.
The penthouses they have built in Alicante, with a total surface area of 500 square meters, will form part of the community of the building, with which they will share the water, electricity and heating supplies.
The process is the same as that followed for the construction of any house. The study is in charge of the realization of the preliminary project together with the budget total of the house. As soon as the approval is given by the client, it takes place the elaboration of the basic project of execution that, as any other, has to be endorsed by the high school of architects of the locality.

Ecology, Economics and speed
Afterwards, the municipal licence of works is requested, which follows the normative procedure of any traditional house, being able to be of new construction or of extension.
Upon approval, the works are carried out and when the property is completed, the tenant will receive the certificate final de obra and the keys at submission .
Vicente Buyo emphasizes that one of the advantages of this project is the speed of execution:"The work is done in just four months, when with traditional construction it would take more than 18 months". This reduces labor costs (30% cheaper) and inconvenience to neighbors. Specifically, the cost of these four penthouses is 350,000 euros. "The project combines the basic characteristics of our business: ecology, Economics and speed," says Buyo.