14 Asian students learn to play Basque Pelota at the university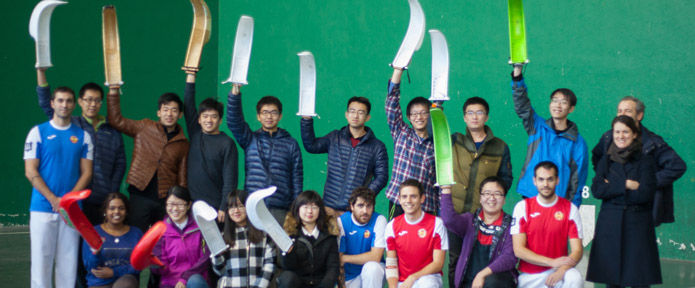 Students and pelotaris at sports center of the University, after finishing their classes.
PHOTO: Manuel Castells
Thirteen students from Shanghai Jiao Tong University and one from Monash University (Australia) were able to enjoy an exhibition and classes of Basque pelota given by professionals from the business Euskal Jai-Alai at the sports center of the University of Navarra.
These fourteen students spend two weeks in Pamplona and two weeks in San Sebastian to take an intensive course in Spanish, the Winter Program Session II, at the high school of language and Spanish Culture(ILCE) of the University of Navarra. They make the learning of Spanish compatible with the knowledge of gastronomic and cultural aspects. They also participate in an Economics seminar room at the School of Economics of the campus Pamplona and another of engineering at the School of Engineers of San Sebastian(Tecnun).