Back to 2014_02_26_ECO_Una estudiante del programa Economics, Governance Leadership gana el premio Duque de Edimburgo
A student from the Economics, Governance & Leadership program wins the award Duke of Edinburgh Award.
Ibone Gómez Olagüe from Navarre receives the award, which promotes volunteer activities, sports and cultural activities.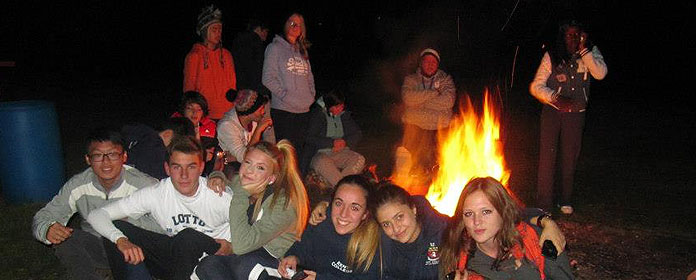 Ibone, third from right, during one of the survival tests.
PHOTO: Courtesy
The award Duke of Edinburgh Award was established in 1956 by His Royal Highness Prince Philip, Duke of Edinburgh. The award is awarded in 126 countries around the world and involves almost six million young people, who must demonstrate their skills in non-curricular activities related to volunteer activities, sport, culture and survival in nature.
"For a year, all members attend weekly meetings where we learn first aid techniques, how to plan routes, set up tents, and go to .... to prepare for expeditions. At the same time we play sports in the gym and are members of a team, for example field hockey or badminton, to prepare ourselves physically," says Ibone, who is now studying the first course of the program. Economics, Governance & Leadership program at the School Economics and Business Administration program at the University of Navarra. at the University of Navarra.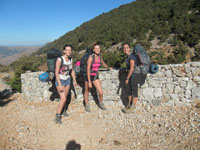 During the 12 months, participants must develop cultural skills, such as music, painting or, as Ibone did, focused on their future degree program university. She signed up for Young Enterprise, a competition for companies created and organized by teenagers, which focuses on work teamwork and solving business cases. "It has helped me a lot," Ibone says.
The residential week turned into two weeks as a children's monitor, a stage that has encouraged her to prepare for this summer - together with other students from the university - a trip as a volunteer to Cambodia to be a monitor at a camp run by the NGO For the Smile of a Child, which prevents them from having to earn a living in the local garbage dump.
Ibone likes working in the field, and she has no doubt that "the best part of this experience" were the survival weeks: one in Snowdonia (Wales) during the month of February, and another in Greece during the summer, to experience the extremes: "The purest cold and the most crushing heat. They were two extremely hard weeks, in which we lost about 2 kilos of weight and lived all subject of experiences with insects, wounds and lack of water, but I would say that they have also been the best weeks of my life. I learned that the cold, the pain and the sleepiness pass as long as you learn to think of them as trivialities and have a friend by your side. Sometimes the challenge was not physical but mental, and it makes you not think the same at the end of the week".
After the expeditions Ibone took advantage of his experience and was leader of a group candidate to Duke of Edinburgh Bronze, another category of competition. The five 14-year-olds won their medal in June, a source of "pride" for Ibone.
On February 10, Ibone was awarded the award Duke of Edinburgh Gold along with her teammates at St. James Palace, London. 
data of interest