Back to 2014_01_27_santotomas_filosofia
Thomas Aquinas and the Philosophy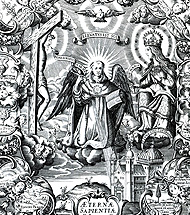 Engraving of St. Thomas surrounded by emblems
PHOTO: Jean de Courbes, 1635
To elaborate his great theological work, Thomas Aquinas made abundant use of the Philosophy, to the point that, after more than seven centuries, he is one of the most studied thinkers. For example, if we look at the last 50 years, the increase in publications on St. Thomas is double that of those on Aristotle (who continues to be the most studied) or Kant, and 18 times greater than the increase in those on Wittgenstein.
The main philosophical contribution of Thomas Aquinas is his metaphysics of being as the foundation of reality. Along with this, St. Thomas stands out for his virtue ethics and his encyclopedic Thomas stands out for his virtue ethics and for his encyclopedic development of the Aristotelian and Neoplatonic Philosophy . Among other fruits of his work, Thomas Aquinas inspired the doctrine of international law, human rights and popular political sovereignty developed in the 16th century by the School of Salamanca. These Spanish authors, mostly Thomists, would be, in turn, the example taken by influential German university professors of the 18th century to set the instructions of a new academic Philosophy , giving rise to the golden age of German thought from Kant to Hegel.
Thomas Aquinas and the University of Navarra
Our University is well known among scholars of St. Thomas. The most prestigious specialized review, Revue Thomiste, indicates as the place of reference letter on the Internet the site www.corpusthomisticum.org , installed mainly on our servers. The edition there available of the complete works of St. Thomas, the search system, the search engine, and the website of the University of St. Thomas are all available on the Internet. Thomas, the search system, the bibliographic database , the dictionaries and historical documents, etc., receive nearly two million hits each year.
In addition, the University collaborates in research projects related to Thomas Aquinas with numerous academic institutions in Europe and America. Thus, for example, our Latin texts have been used for translations into English, French, German, Russian, Romanian, Czech, etc.
In the campus of the University we keep an authenticated relic of St. Thomas Aquinas: it is in the chapel of the Library Services of Humanities, to the right of the altar, in a reliquary with the figure of an angel (Thomas was called the Angelic Doctor, because of the depth of his intelligence). Next to this relic is another one of Pope St. Pius X, a great promoter of the Thomistic programs of study . In one of his last writings, the founder of the University of Navarra, St. Josemaría, refers extensively to both St. Thomas and St. Pius X as guides in the study of Philosophy and Theology. For this reason, there are many professors and students who, each day, when they go to Library Services, visit chapel and ask the patron saint of university students to help them in their work of this workshop.