Back to 2014_27_02_higado_laparoscopia
For the first time in Spain, a portion of liver from a living donor is extracted by laparoscopy
The specialists of the Clínica Universidad de Navarra have successfully performed two interventions with this approach, to later transplant the liver grafts to the recipients.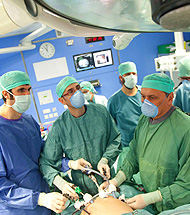 The surgical team during the laparoscopic extraction of the donor liver graft.
PHOTO: Manuel Castells
The Hepatobiliopancreatic Surgery (HPB) and Transplantation team at Clínica Universidad de Navarra has laparoscopically removed the right lobe of the liver of a living donor and then transplanted it to her brother, who suffers from end-stage liver disease. This is the second case of laparoscopic removal of a living donor liver section on Clínica Universidad de Navarra. To date, this advance has been employee in very few hospitals in the world. Specifically, two centers have applied this procedure to remove the left lobe of the liver (Ghent University Hospital and New York Presbyterian Hospital in New York) and only one for the right lobe, the Hôpital St Antoine in Paris. In Spain, the Clínica Universidad de Navarra is to date the only center that has performed this procedure by laparoscopy.
The use of the laparoscopic technique in this procedure is aimed at reducing the risk for the donor, as well as surgical aggression and improving the postoperative period. goal . " Our maximum goal is the safety of the donor", agree in affirming the surgeons of the Clínica Universidad de Navarra who have led both laparoscopic interventions, Doctors Fernando Rotellar and Fernando Pardo.
Other contents of the news