107 international young people participate in the University's ILCE summer courses
The first group consisted of 35 students from the USA, Germany and the Czech Republic.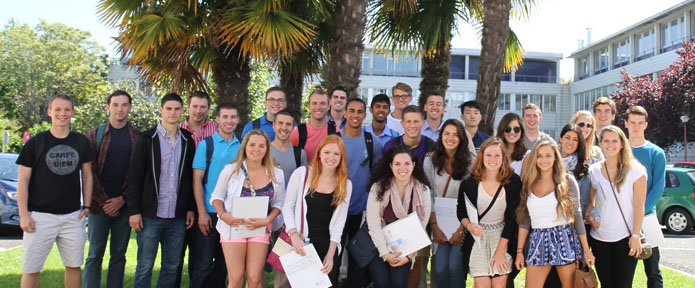 group of students participating in the course
PHOTO: Manuel Castells
The high school of language and Spanish Culture (ILCE) of the University of Navarra is hosting this summer the stay of about 107 international young people from more than 20 countries.
A group formed by 30 students from the University of Michigan, three from the USA, two from Germany and one from the Czech Republic, the first to participate in the courses organized by this high school during the summer season.
This program has helped them to learn more about the history, culture and heritage of Navarra and Spain. The course consisted of three weeks of classes of language and Spanish culture at classroom, combined with Cultural Activities Office. The novelty of this course is that the first two weeks were held in Pamplona while the last week took place at campus in San Sebastian. 
Among the activities they have carried out are the visit tour of the city of Pamplona, its City Hall and Cathedral, the walls and the Fort of San Bartolomé, the attendance to sevillanas and flamenco rumba classes, a Kayak course and various excursions to the castle of Javier, the monastery of Leyre, the castle of Olite and the Bodegas framework Real.
A group of 72 students from the College of Holy Cross (USA) and Centennial College (Canada) will take over from group in mid-August until the end of the month. They will carry out all the activities in the city of Pamplona, following the same dynamic of combining classes with Cultural Activities Office as in the June course.