The Museum was present at the Government of Navarre's Tourism stand at FITUR
The Autonomous Community of Foral presented the Museum as one of its tourist attractions for 2014 at the International Tourism Fair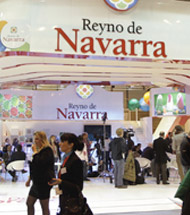 Navarra Stand at Fitur
PHOTO: Courtesy
The University of Navarra Museum was present at the Government of Navarra's Tourism stand at FITUR. From January 22 to 26, the Autonomous Community of Navarre presented its tourist attractions for 2014 in Madrid.
Yolanda Barcina, president of Navarre, recalled that the sector contributes more than 6% to the Navarre Economics and that it feeds 30,000 families, and stressed that"it does not stop growing". Among other data, she explained that the issue of foreign tourists increased in 2013 by 17%, and that "more and more people are visiting us from more varied and distant places", such as China and Russia.
The University of Navarra Museum aspires to attract, thanks to its varied programming, a larger issue of tourists to Navarra.